According to data published by the California Highway Patrol (CHP), there were 269,031 people injured in motor vehicle accidents in 2019 (which is up from 2013 when we first did the study), the most recent year for which data is available.
Here are some interesting findings from the updated data about the most dangerous roads in California.
The most hazardous segment of the I-15 highway in California lies between Exits 138 and 129, situated in Hesperia, roughly 35 miles north of downtown San Bernardino.
While the population of the Los Angeles metropolitan area is over twice that of the San Francisco metropolitan area, the latter has a higher number of the state's deadliest road sections, occupying the second and third spots.
Drunk driving is a factor in 27% of fatal collisions, while accidents on the most perilous road in the state make up only 0.1% of total crashes.
Speeding is implicated in 28% of accidents, a slightly larger percentage than accidents involving drunk driving.
A mere 4% of accidents are attributed to distracted driving, with California boasting lower rates than most states
Fatal accidents peak in November, likely due to increased travel during the Halloween and Thanksgiving holidays.
Los Angeles County experiences the highest number of deadly accidents in the state, with speeding and drunk driving as the primary contributing factors.
While car, truck, and motorcycle accidents can happen anywhere, there are some roads that are significantly more dangerous than others. Issues like sharp curves, narrow lanes, heavy traffic, poor visibility, and other conditions can significantly raise your risk of involvement in an accident.
Here are 10 of the most dangerous roads throughout the state.
Map of the 10 Most Dangerous Roadways in California
[huge_it_maps id="1″]
State Road 138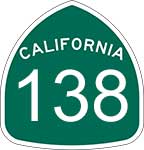 According to a report published by Dateline, State Road 138, in Southern California is easily one of the most dangerous roads in the state. With sections in both San Bernardino County and Los Angeles County, the eastern leg has many mountainous sections with significant twists and turns, making it particularly dangerous.
---
Interstate 15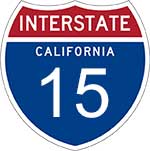 Interstate 15 carries millions of people between Las Vegas and Los Angeles each year. In a list of America's most dangerous roads compiled by Popular Mechanics, it was ranked number 10 (State Road 138, discussed above, was number 8). In fact, in 2010, the stretch of I-15 between the two cities was designated as the deadliest stretch of road in the United States by the Scripps Howard News Service's "Killer Roads" project.
---
Interstate 10
In 2010 the Daily Beast ranked Interstate 10 in California the 5th most dangerous highway in the Country. I-10 runs from Santa Monica, through L.A. to the Arizona border. The dangers you can encounter on this route include drunk drivers, poor road conditions, congestion, an distracted drivers, among others.
---
Interstate 80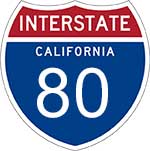 Its western terminus is in San Francisco and passes through Donner Summit before it crosses into Nevada. Some of the issues that make it particularly dangerous include traffic volume and its route through the Sierra Nevada mountain range.
---
Interstate 5
Known as "The 5," around 1 million drivers use part of the nearly 800-mile-long Interstate 5 in California on a daily basis. Much of The 5 is used to commute back and forth from San Francisco to Los Angeles and the highway offers little scenery or activities for travelers other than fast food restaurants, gas stations, farmland, and desert. Because of the monotony of The 5, many people drive fast to reach their destination as soon as possible. The number of big rig trucks that use The 5 also increase the risk of collisions. The Daily Beast ranked I-5 number 32 on their deadliest freeways list due to approximately 800 fatalities in four years, which is almost one death per mile of road.
---
Interstate 8
Stretching from San Diego to the Arizona border, drivers can travel on Interstate 8 for almost 170 miles in California. In a four-year period of time from 2004 to 2008, 136 fatal collisions happened on I-8, resulting in 153 fatalities. This was enough to rank number 40 on a list of the deadliest highways and freeways in the entire country.
---
Interstate 40
Interstate 40 is one of the major east-west interstate highways in the country, crossing across the U.S. from North Carolina to California, much of which mirrors the historic Route 66. The 155 miles located in San Bernardino County are often called the Needles Freeway and this stretch has ranked as one of the deadliest highways in the U.S., with 110 people dying in crashes in four years.
---
Mineral King Road
People often travel this 24 miles of blind turns and extremely narrow lanes with no shoulders to get to the camping destinations in Sequoia National Park. Some people attempt to traverse this dangerous stretch of road with RVs that are too large for the narrow lanes, and commercial trucks also use the road to service lodges and cabin sites. The combination of hazardous road conditions, fast drivers, and dangerously large vehicles regularly lead to crashes.
---
Highway 49
This 40-mile long highway in Merced County has a 15-mile stretch that can be hellish and often sees head-on collisions. From Bear Valley to Coulterville, a driver will encounter sharp turns and twisting roadway, which can be intimidating for unfamiliar drivers who drive cautiously slow. On the other hand, drivers who regularly use Highway 49 know how to navigate the turns at a faster speed, including motorcyclists who routinely ride on this scenic road. Faster drivers and motorcyclists pass slower drivers on the left side, which is an invitation for head-on collisions should an oncoming vehicle suddenly come around a bend.
---
Highway 70
The highway spans 27 miles through Yuba County, CA and has many conditions that often lead to crashes. The combination of fast driving with sudden backups due to construction causes risks across the entire highway, however, there are 12 miles of Highway 70 that are known as particularly treacherous. When you are traveling south from Cox Lane to Silva Avenue (or vice versa), you can often encounter farm equipment turning onto the highway moving at 15 miles per hour. Many drivers who are not paying attention will slam into the resulting traffic jams from farmers who frequently operate their equipment on the road.
---
Contact GJEL Attorneys Today to Schedule a Free Consultation
If you have been injured in an accident that occurred on one of these or any other roadway in California, you should speak to a lawyer as soon as possible, as you may be entitled to financial compensation. For a free case evaluation, call our office today or contact us online.
Written By Andy Gillin. Last Updated 3/20/23